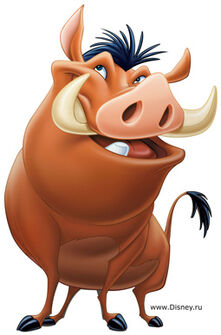 Pumbaa
is one of the characters from
The Lion King
, its sequels, and
its spin-off television series
. He is best friends with
Timon
and later,
Simba
.
Pumbaa is a very lovable character and is very kind and tough. He deeply cares for his friends and is very protective of Timon. He loves bugs and longs for friends who won't abandon him. He is awkward in crowds, and sometimes displays child-like naivety which is sometimes confused for stupidity. Pumbaa in fact comes up with some very intelligent plans and insightful ideas, which Timon rapidly claims as his own. He also has a problem with his stomach which causes gas like results.
In The Lion King 1½, Pumbaa is the first to follow Simba back to the Pride Lands, but has great confidence in his friend Timon, so he runs slowly so that his friend can catch up.
role in the Series
Edit
he is one of the founding leaders of the Jungle Crew, and also Timon's and Simba's good friend, as with the other jungle crew members. cause of Pumbaa's child-like persona, Simba handles the leader ship deals.
Pumbaa had his first apearance as a guest star in Pooh's Adventures of Scooby-Doo on Zombie Island.
Pumbaa returned in Winnie the Pooh and The Chronicles of Narnia: The Lion, the Witch and the Wardrobe.
Pumbaa started his own adventure with his friends in Timon and Pumbaa's Adventures of The Jungle Book and is one of the leaders of The Jungle Adventure Crew.
Pumbaa guest starred in the DisneyLand version of Winnie The Pooh In Fantasmic!, Winnie the Pooh Visits The Haunted Mansion, Winnie the Pooh in The Enchanted Tiki Room, Winnie the Pooh in Animagique, the Lion King segment in Pooh's Adventures of Sorcerers of the Magic Kingdom, Winnie the Pooh vs The Mummy and Winnie the Pooh Says Hocus Pocus.
Pumbaa made his first guest appearence in a Pokémon crossover film in Ash Ketchum Meets The Hunchback of Notre Dame.